You can upgrade your CORE subscription plan at any point in your Email Hippo account.
Log in to your Hippo World account.
In the menu on the left of the CORE Dashboard page click 'Manage subscription', as indicated below.
Details of your current subscription plan will then load into the center of the screen, with your current subscription plan and edition indicated in black - i.e. 2,500 Monthly quote and Monthly payment in the example below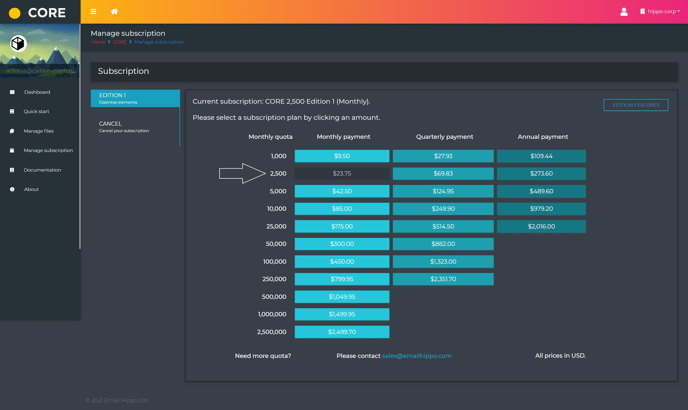 To upgrade your current subscription choose a different value plan or payment structure and click on the relevant blue entry.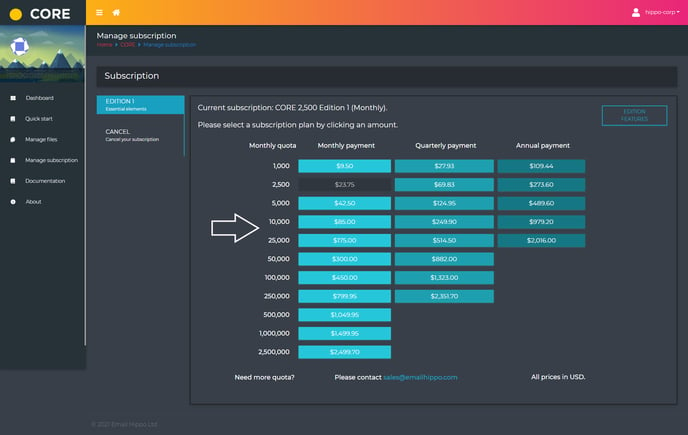 You cannot repurchase the same level you are currently on.
You will be redirected to the billing portal to pay for your new subscription.
If this is the first time you are making a payment, you will be able to select the method of payment you wish to use from Credit Card or PayPal. Make your selection and follow through the on screen instructions.
If this is NOT the first time you are making a payment, you will only be able to use your previously chosen payment method. Your original payment choice will be displayed for you to verify before pressing CONTINUE to be taken to the 'Buy now' screen.
On the BUY NOW screen you can recheck your billing details and new subscription plan.
When you are happy, to complete the transaction click 'BUY NOW' and your payment will be processed.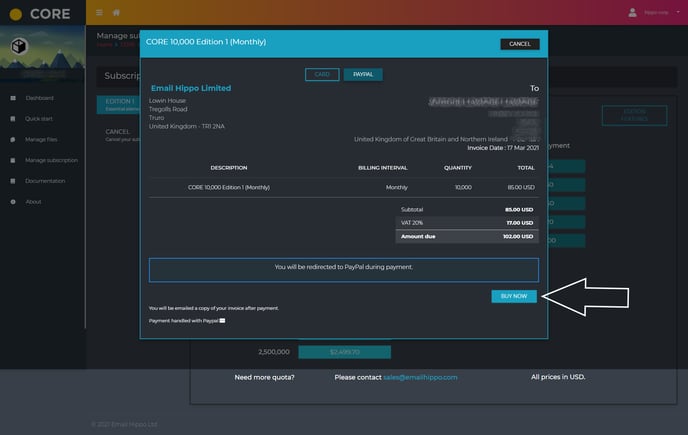 After you have pressed the 'BUY NOW' button, you should receive an invoice in your email inbox to confirm your quota has now been updated.
Upgrades are usually done immediately but occasionally it can take a few minutes for the payment to be verified.
If you are experiencing any issues upgrading your subscription, please contact us via email on help@emailhippo.com.